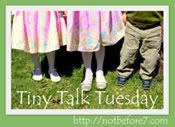 I'm participating in the blog carnival, "Tiny Talk Tuesday" this week. With an almost three-year-old, the things that come out of her mouth seem to be daily quotable! It's a fun age!! Here is one of my favorites from this past week:
Dad: "Alexa, are you my little princess?"
Alexa: No! You are not the king. You are my dad and I am not your little princess."
Turns out she was playing "Mommy and Daddy" at the time, NOT "Princess."