I've got just one quote by Alexa (just turned three) stuck in brain that I don't think I'll ever forget. Some are cute but, this one made me laugh out loud...
"Mommy, I want to wear my nightgown with the circle poka-nuts!"
She also calls her swimming suit a "swimming soup."
In Pre-k, last Spring, Robby informed me that he could recite the whole "Fledge of Allegience."
...or, you can just call it "The Fledge."
So adorable!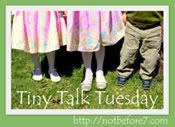 You can go to
Not Before 7
to particiapate in Tiny Talk Tuesday.