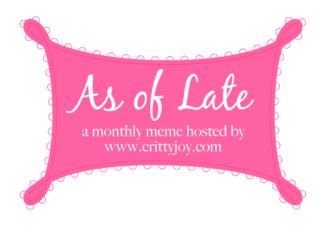 Lately I'm a little sad about the baby stage of life being behind us.
Lately I have the desire, as strong as ever, not to miss a moment of the important things in life.
Lately I've become more aware that humility is not just recognizing when I mess up, but loving anyway when someone else messes up.
Lately I've been challenged to step out of my comfort zone.
Lately I've been convicted to enter another's sufferings.
Lately
I don't want to,
but am willing to pray about how to.
Lately I've cleared my plate and feel good about taking a step back.
Lately I anticipate new things, harder things, good things.
Lately I've started counting up to 1000, my gifts of gratitude.
Lately I've realized that I can
clean
pick up my whole house in an afternoon, including those rooms behind closed doors,
if I have to.
What have you been up to As of Late?